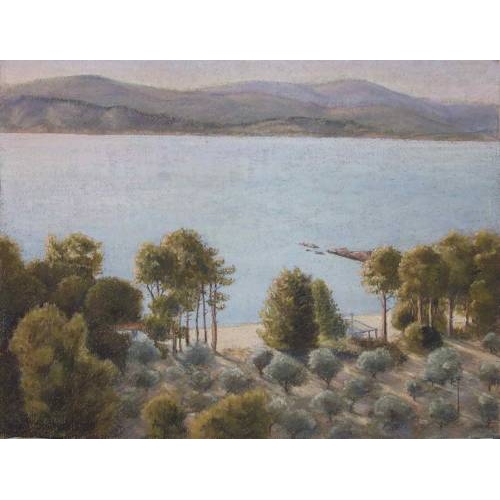 Banana Beach, Skiathos, the Olive Grove (Original)
Prints also available… A path through this olive grove leads to Banana beach; I painted from the terrace of a cottage on the hillside above. The late afternoon sunlight caste a pink glow on the sea and made an interesting pattern through the trees. The Mountains of Pelion in the distance are gorgeous shades of purple at this time of day.
Original paintings are normally sold mounted and protected for transit within a specially designed, robust foam core display folder. This is then wrapped in bubble wrap and delivered either personally or by courier.
Prints are posted in a cardboard tube.
Product Description
Pastel – mounted original artwork
TITLE: Banana Beach, Skiathos, the Olive Grove

MEDIA: Pastel

DATE: 2005

IMAGE SIZE: 400×300 mm / 15.75×11.81 inches (approx.)

MOUNTED SIZE: 505×405 mm / 19.88×15.94 inches

FRAMED SIZE: 530×430 mm / 20.87×16.93 inches

FORMAT: Pastel, mounted original artwork

FRAMING: unframed

PRICE: £240.00GBP

$ 364.44 USD

€ 339.77 EUR

$ 510.49 AUD

All conversions are approximate

coinmill.com

DELIVERY:

UK Mainland – Personal delivery by hand: £15.00 GBP
Europe (EU) – Personal delivery by hand: £15.00 GBP