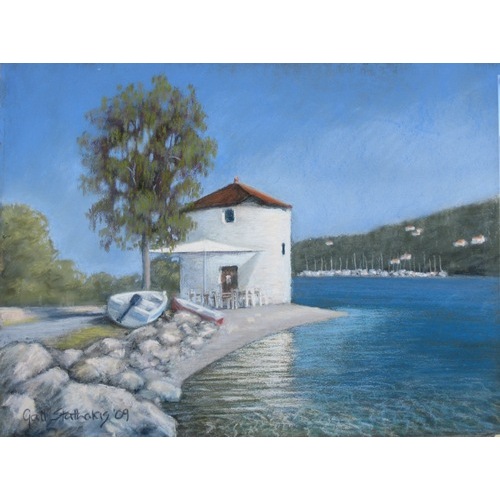 The Mill on the Shore, Skiathos (2)
Both paintings of this Mill were done at the same time. I often work on two similar paintings at the same time as it allows me to feel less inhibited about making mistakes. Or, as was the case here, I couldn't decide which formatt would work best; Landscape or Portrait. However, after completing them both I still don't know which I prefer.
Product Description
Pastel – Limited edition print.
TITLE: The Mill on the Shore, Skiathos (2)

MEDIA: Pastel

DATE: 2009

IMAGE SIZE: 400×300 mm / 15.75×11.81 inches (approx.)

MOUNTED SIZE: 500×400 mm / 19.69×15.75 inches

FRAMED SIZE: 520×420 mm / 20.47×16.54 inches

FORMAT: limited edition print

FRAMING: unframed

PRICE:

£40.00GBP

$ 61.56 USD

€ 56.57 EUR

$ 86.10 AUD

All conversions are approximate

coinmill.com

DELIVERY:

Europe (EU) – Hellenic Post Air Mail: £0.00 GBP