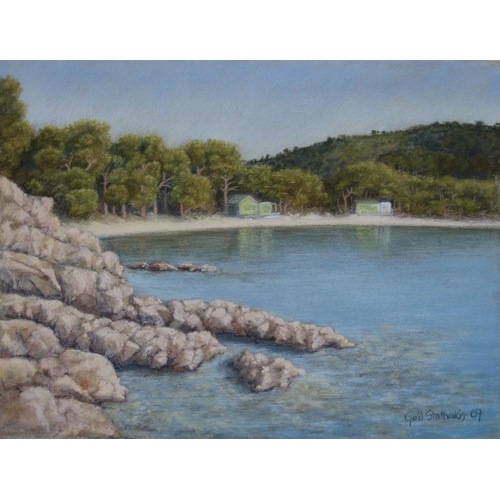 The Green Huts, Banana Beach, Skiathos (Original)
Print also available. The green huts on the beach replaced the old shacks . Snacks and drinks are served from these during the summer months. This is the view from the spit of rocks that separates the two Banana Beaches will be familiar to many.
Original paintings are normally sold mounted and protected for transit within a specially designed, robust foam core display folder. This is then wrapped in bubble wrap and delivered either personally or by courier.
Prints are packaged in cardboard tubes and sent by post.
Product Description
Pastel – mounted original artwork
TITLE: The Green Huts, Banana Beach, Skiathos

MEDIA: Pastel

DATE: 2007

IMAGE SIZE: 400×300 mm / 15.75×11.81 inches (approx.)

MOUNTED SIZE: 500×400 mm / 19.69×15.75 inches

FRAMED SIZE: 520×420 mm / 20.47×16.54 inches

FORMAT: Pastel, mounted original artwork

FRAMING: unframed

PRICE: £300.00GBP

$ 455.55 USD

€ 424.72 EUR

$ 638.11 AUD

All conversions are approximate

coinmill.com
DELIVERY:

UK Mainland – Personal delivery by hand: £15.00 GBP
Europe (EU) – Personal delivery by hand: £15.00 GBP