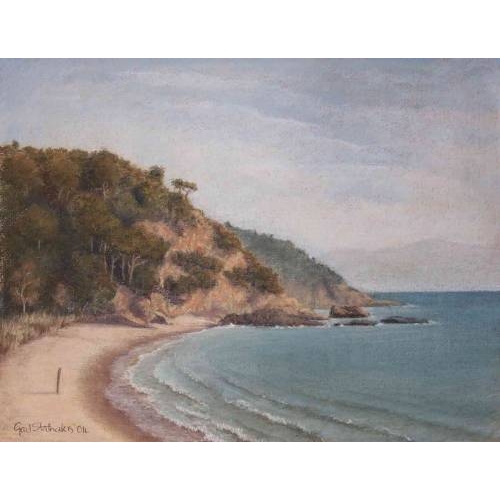 Agia Eleni Beach, Skiathos
A brisk westerly wind was blowing onshore which made it a chilly afternoon to sit painting; but I enjoyed it nevertheless.
This is the beach below our house; a wonderful spot to watch the sun go down anytime of year.
Product Description
Pastel – Limited edition giclee print.
TITLE: Agia Eleni Beach, Skiathos

MEDIA: Pastel

DATE: 2004

IMAGE SIZE: 350×270 mm / 13.78×10.63 inches (approx.)

MOUNTED SIZE: 505×405 mm / 19.88×15.94 inches

FRAMED SIZE: 530×430 mm / 20.87×16.93 inches

FORMAT: limited edition giclee print

FRAMING: unframed

PRICE:

£40.00GBP

$ 61.56 USD

€ 56.57 EUR

$ 86.10 AUD

All conversions are approximate

coinmill.com

DELIVERY:

Europe (EU) – Hellenic Post Air Mail: £0.00 GBP