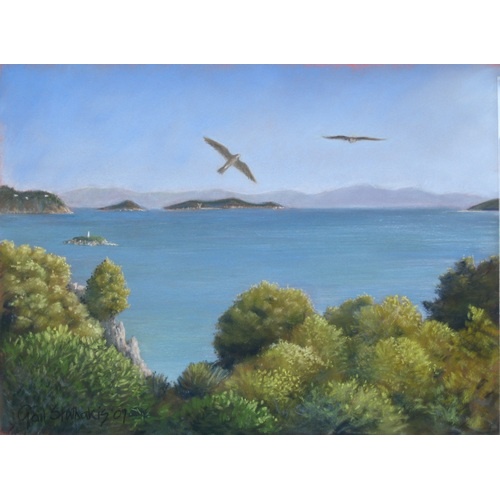 Eleonora's Falcon, Northern Sporades
Looking out from Kanapitsa towards some of the tiny deserted islets that are part of the Northern Sporades. This is a favourite breeding ground for the Eleonora's Falcon shown flying here. An endangered species, yet many are seen here during the summer months where it nests on the more deserted cliffs. It is estimated that over 75 % of the world's population breed on the Greek island's. Eleonora's Falcon is the english name of a falcon known in Greek as Varvaki.
Product Description
Pastel – Limited edition print.
TITLE: Eleonora's Falcon, Northern Sporades

MEDIA: Pastel

DATE: 2009

IMAGE SIZE: 400×300 mm / 15.75×11.81 inches (approx.)

MOUNTED SIZE: 500×400 mm / 19.69×15.75 inches

FRAMED SIZE: 520×420 mm / 20.47×16.54 inches

FORMAT: limited edition print

FRAMING: unframed

PRICE:

£40.00GBP

$ 61.56 USD

€ 56.57 EUR

$ 86.10 AUD

All conversions are approximate

coinmill.com

DELIVERY:

Europe (EU) – Hellenic Post Air Mail: £0.00 GBP