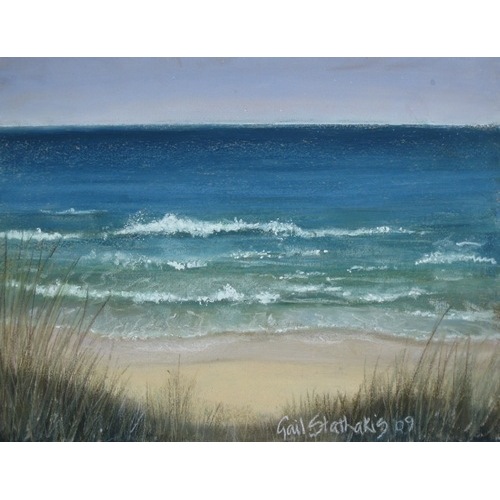 Beach Grass at Elias, Skiathos
Original sold, prints available. The sea at Elias is exposed to the north wind, the bay is also very shallow, so is often wavey. Sand dunes rise behind leading into a pine forest. There is a good taverna on the beach.
Product Description
Pastel – Limited edition print.
TITLE: Beach Grass at Elias, Skiathos

MEDIA: Pastel

DATE: 2009

IMAGE SIZE: 400×300 mm / 15.75×11.81 inches (approx.)

MOUNTED SIZE: 500×400 mm / 19.69×15.75 inches

FRAMED SIZE: 520×420 mm / 20.47×16.54 inches

FORMAT: limited edition print

FRAMING: unframed

PRICE:

£40.00GBP

$ 61.56 USD

€ 56.57 EUR

$ 86.10 AUD

All conversions are approximate

coinmill.com

DELIVERY:

Europe (EU) – Hellenic Post Air Mail: £0.00 GBP