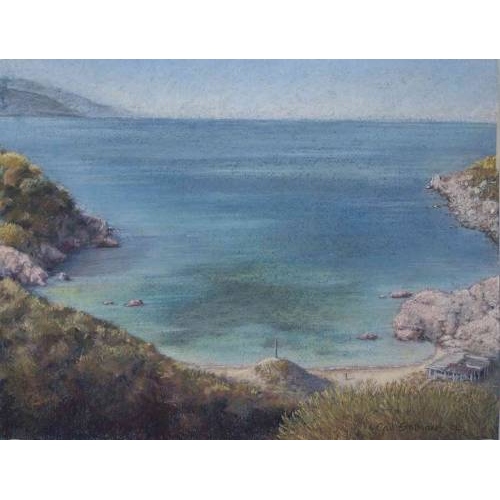 Kriffi Bay, Skiathos, the Hidden Beach
My favourite walk takes me past here. The colour of the sea is always amazing.
The "Hidden beach" was a favourite gathering place for many of our guests; the food at the little beach shack was superb, although the walk back up at the end of the day was something else. Sadly the shack is now closed but this beach holds many happy memories . Re-opened !!!
Prints are posted in a cardboard tube.
Product Description
Pastel – Limited edition print.
TITLE: Kriffi Bay, Skiathos, the Hidden Beach

MEDIA: Pastel

DATE: 2004

IMAGE SIZE: 400×300 mm / 15.75×11.81 inches (approx.)

MOUNTED SIZE: 505×405 mm / 19.88×15.94 inches

FRAMED SIZE: 530×430 mm / 20.87×16.93 inches

FORMAT: limited edition print

FRAMING: unframed

PRICE:

£40.00GBP

$ 61.56 USD

€ 56.57 EUR

$ 86.10 AUD

All conversions are approximate

coinmill.com

DELIVERY:

Europe (EU) – Hellenic Post Air Mail: £0.00 GBP