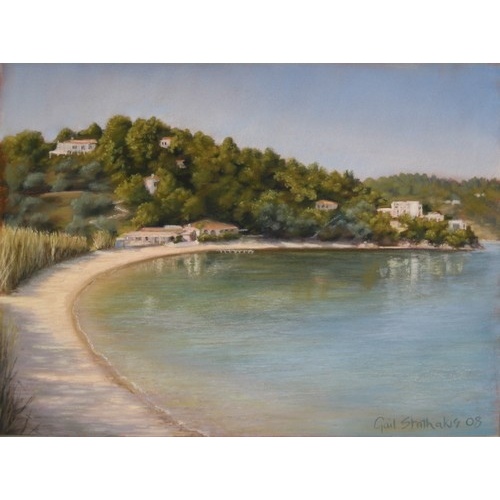 Kanapitsa Shore, Skiathos
The reflections and colours are always wonderful around this area. Above the bay villas peep out from amongst the pine trees. This is the wooded peninsular where the first ex-patriot villas of the island were built in the sixties. At this time there were no roads and the building materials were taken by wooden caique to the nearest beach then carried up steep paths from the shore by donkey. These resulting villas were in the main simple but charming. Nowadays they are much more sophisticated; this beautiful area still holds a rare charm.
Product Description
Pastel – Limited edition print.
TITLE: Kanapitsa Shore, Skiathos

MEDIA: Pastel

DATE: 2008

IMAGE SIZE: 400×300 mm / 15.75×11.81 inches (approx.)

MOUNTED SIZE: 500×400 mm / 19.69×15.75 inches

FRAMED SIZE: 520×420 mm / 20.47×16.54 inches

FORMAT: limited edition print

FRAMING: unframed

PRICE:

£40.00GBP

$ 61.56 USD

€ 56.57 EUR

$ 86.10 AUD

All conversions are approximate

coinmill.com

DELIVERY:

Europe (EU) – Hellenic Post Air Mail: £0.00 GBP