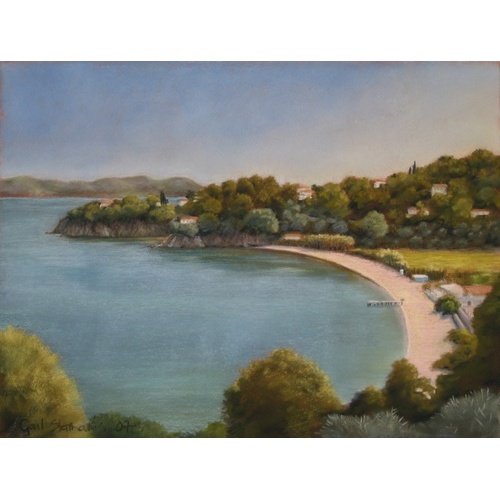 Kanapitsa Bay, Skiathos
This is the bay as seen from Cape Kanapitsa Hotel. The area was the original ex patriot community of the island; the many white houses visible are some of the original villas; still mainly foreign owned. Set back from the centre of the beach is a pleasant taverna; from the little jetty in front of this a regular water bus service goes to town.
Product Description
Pastel – Limited edition print.
TITLE: Kanapitsa Bay, Skiathos

MEDIA: Pastel

DATE: 2007

IMAGE SIZE: 360×270 mm / 14.17×10.63 inches (approx.)

MOUNTED SIZE: 500×400 mm / 19.69×15.75 inches

FRAMED SIZE: 520×420 mm / 20.47×16.54 inches

FORMAT: limited edition print

FRAMING: unframed

PRICE:

£40.00GBP

$ 61.56 USD

€ 56.57 EUR

$ 86.10 AUD

All conversions are approximate

coinmill.com

DELIVERY:

Europe (EU) – Hellenic Post Air Mail: £0.00 GBP